Written by the FALCON Team
Introduction
Just recently, we published our monthly shortlist of companies passing our rigorous 3-step stock selection process exclusive for Seeking Alpha readers. After our prior article on the pharmaceutical giant, Bristol-Myers Squibb (BMY), we now answer a subscriber's request to perform a deep-dive analysis on one of the world's largest video game publishers, Activision Blizzard (ATVI). We were curious how the company fares in our shareholder value focused framework and decided to assess whether initiating a position may be warranted at current levels.
In light of Buffett's teachings distilled from his 50+ years of shareholder letters, our analysis is based on the three dimensions that truly matter: operations, capital allocation, and valuation. Before we do that, however, let's jump into what makes Activision an interesting candidate today.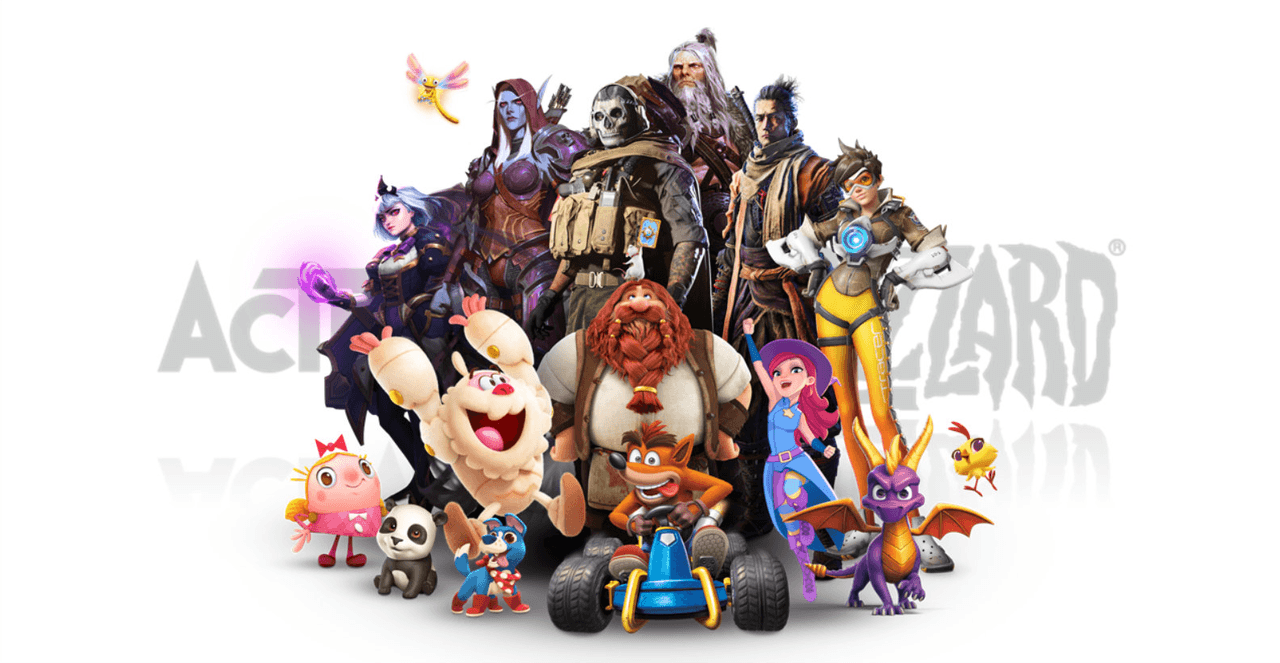 So what's the story with Activision?
With flagship franchises like Call of Duty, World of Warcraft, and Candy Crush under its umbrella, Activision Blizzard has become one of the world's largest third-party video game publishers, boasting nearly 430 million monthly active users across various platforms, including video game consoles, personal computers, and mobile devices. 2019 has been a transitional year for the company, which started with substantial layoffs (8% of the workforce) to cut underperforming initiatives and reduce certain non-development and administrative-related costs across the business. At the same time, the focus was shifted on the 6 biggest franchises: Call of Duty, Candy Crush, Overwatch, Warcraft, Hearthstone, and Diablo where the number of developers was increased.
Mainly due to the unprecedented success of Call of Duty: Mobile and Call of Duty: Warzone coupled with pandemic-related tailwinds, Activision has reported one of its strongest quarters to date, generating a revenue of $1.93 billion, more than $240 million above its May guidance. The next installment in one of the most valuable gaming franchises in the world, Call of Duty: Black Ops – Cold War (releasing on November 13, 2020) will certainly benefit from the success of the previously released free-to-play titles and will be highly integrated with Warzone.
The long-awaited remaster of Tony Hawk's Pro Skater 1 + 2 has just been released to critical success and Crash Bandicoot 4 will be released in less than a month. The Blizzard Entertainment segment has also benefited greatly from the shelter-at-home conditions, with Warcraft, Overwatch and Hearthstone experiencing a surge in player numbers, revitalizing their competitive, e-sport scene as well. The next expansion of World of Warcraft, Shadowlands – to be released on October 27, 2020 – has the chance to bring back numerous subscribers lost during the game's 14-year history.
Blizzard is planning to revitalize the Diablo franchise with new 2 titles: Diablo IV and Diablo: Immortal. Although the former is still years away, the latter – co-developed with Chinese developer NetEase (NTES) – is expected much sooner and has immense potential. Considering the popularity of the mobile action role-playing genre in Asia, Immortal has the chance to become one of the most popular games for years to come in the most lucrative gaming market in the world.
With player engagement reaching sky-high levels and at least 3 major releases expected for the year, not to mention the arrival of the new console generation, Activision Blizzard seems to be perfectly positioned to surprise investors on the upside in the coming quarters as well.
Operations
As a general rule of thumb, a company has authentic earnings power when it has both defensive and enterprising profits. Thus, when assessing a firm's operations, we care about two fundamental aspects: it has to pass the cash flow-based stability test, and it must be a consistent shareholder value creator measured in the EVA framework.
Stability: Assessing Cash Flow Consistency
As Hewitt Heiserman writes in his book, "It's Earnings That Count": The most ruinous mistake you can make as a buyer of common stocks is to own a company that goes bankrupt. For this reason, the defensive investor judges the quality of a firm's accrual profit on the basis of its ability to self-fund. That is, whether it produces more cash from ongoing operations than it consumes, and not go deeper into debt or dilute current stockholders. When we look at the conventional financial statements, our primary concern, therefore, is the stability of the company's cash generation.

Source: Morningstar
Activision has generated strong revenue and net income growth in the past 10 years, while successfully converting it into cash, leading to a 4-5% compound annual growth in operating cash flow since 2010. Despite rapidly changing consumer trends, console generational shifts, the emergence of new platforms, and certain genres falling in and out of favor, Activision's strong product portfolio managed to produce fairly consistent numbers over the decade. Since the gaming industry is relatively capital-light, with CapEx amounting to only ~7% of OCF on average over the past decade, the company is left with a healthy amount of free cash flow each year. As a result, Activision passes the stability test with flying colors.
In the next step, we move on to the EVA (Economic Value Added) framework, examining if the company can consistently create shareholder value, as EVA cuts through accounting distortions and charges for the use of capital.
Value Creation: What type of moat rating is warranted?
We are only interested in companies whose businesses are protected by large and enduring economic moats, as buying those companies at the right price generally leads to outperformance, as outlined in our research article. In the EVA framework, the EVA Margin (EVA/Sales) will be our ratio to define a company's moat. A 5% EVA Margin can be used as an indicator for a "good" company, whereas persistence of a 5%+ EVA Margin for 10 years makes a company great and thus "moaty".
By looking at the chart below, we see that since the merger with Vivendi Games (2008) and the last financial crisis, Activision has been able to steadily grow its EVA Margin, reaching as high as 9.6% in the second quarter of this year. Although the 10-year average comes in at only 2.7%, the company has been able to stay above the 5% mark in recent years. The strong focus on the already well-established franchises, coupled with the switch to the games as a service (GaaS) model has certainly paid off. Offering subscriptions, season passes, and microtransactions not only have a beneficial effect on the operating margin – due to lower development costs -, it allows Activision to have access to steady, predictable income streams as well.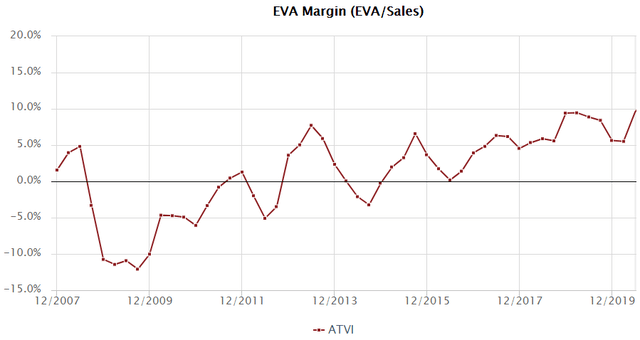 Source: evaexpress.com
Shelter-at-home conditions allowed the company to introduce millions of new users into its already highly popular franchises – two of the biggest having upcoming releases in the coming months – and due to the social nature of its products, it is likely to hold on to many of its newly found players for years to come. Even if the current crisis has long-term detrimental effects on the economy, the interactive entertainment provided by Activision is a very compelling value for customers considering its low cost per hour relative to other forms of entertainment. We believe the company will be able to successfully capitalize on the current situation and is on the right track to reach and stabilize at double-digit EVA Margin levels in the coming years.
Assessing incremental EVA returns
EVA Momentum measures the growth rate in EVA, scaled to the size of the business (measured by its sales). It is the EVA framework's equivalent for Return On Incremental Invested Capital or ROIIC. Any positive EVA Momentum is good because it means EVA has increased, and it is an indication that it is worthwhile to reinvest capital in the underlying business. Instead of pinpointing any single-year performance, we prefer to look at the long-term trailing averages in EVA Momentum.

Source: Author's calculation based on data from evaexpress.com
Over the past decade, Activision has generated an average EVA Momentum of 1.9%, which was primarily driven by decent sales growth coupled with a substantially improving EVA Margin over the period. To put that into perspective, the long-run average for the 75th percentile of the US stock market (represented by the Russell 3000) is 1.0-1.5% percent. Continued focus on core franchises and new, innovative monetization strategies will likely lead to further revenue expansion, which should result in significant shareholder value creation, considering that in recent years the EVA Margin has been in the exceptional 5-10% territory. Overall, Activision fares remarkably well in terms of shareholder value creation, as every reinvested dollar leads to incremental EVA generation for the company's shareholders.
Our take on the moat
The EVA framework enabled us so far to prove from a rearview-mirror perspective, whether the company has an economic moat based on its historical consistency of shareholder value creation. In our opinion, Activision deserves a narrow-moat rating from a qualitative perspective as well, resting heavily on the company's strong, diverse franchise portfolio across different platforms and geographies. That said, the gaming industry is highly competitive with moderate barriers to entry. Although there has been an increasing number of indie developers in the market lately (since development tools are becoming more and more accessible) these rarely achieve comparable success to well-established companies. Activision Blizzard's main competitors are still major third-party powerhouses like Take-Two (TTWO) and Electronic Arts (EA), as well as first-party publishers like Sony (SNE) and Microsoft (MSFT). The gaming industry is expected to grow by almost 10% annually in the coming years, so there is certainly room for many participants, especially since most gamers tend to play many games across different franchises. The companies that can build on their currently existing franchises, coming up with the most efficient monetization methods while also creating brand new, innovative titles will be the ones who will stay ahead of the competition. While it is concerning that there hasn't been any news on new franchises in recent years, Activision Blizzard has been doing an excellent job utilizing their currently existing portfolio while constantly coming up with new, innovative monetization methods.
Relying on its world-class, well-diversified portfolio of franchises, coupled with a loyal customer base, we believe the company has a competitive position that enables it to outearn its WACC for an extended period of time.
Taking a brief snapshot at the company's debt profile, Activision has an S&P Credit Rating of A- coupled with long-term debt to capital ratio of 16%. The company's ability to generate consistent cash flow, coupled with its substantial amount of cash reserves gives it ample room not only to navigate through today's rapidly changing gaming environment but also to make strategic investments and acquisitions as well.
Summary of operations – the Quality Score
The EVA framework's Quality Score is a comprehensive way to assess a company's overall quality, by combining its EVA-based Performance (EVA Margin and Trend) and Risk (e.g. Volatility and Vulnerability) metrics into a single score, measured against the broader market. In the case of extraordinary companies, we would like to see a Quality Score consistently above 80 over a long period of time. As outlined in our research article, the upper quintile tends to outperform the market historically.
In the case of Activision, the historical volatility of the EVA Margin represents the seasonal nature of the business; with the score soaring during major releases and slowly tapering down before experiencing a sharp increase due to another big launch. Although the Quality Score was averaging 72 during the last decade, it has shown much-improved stability in recent years, which is a testament to the superiority of the games as a service (GaaS) model, providing a steady income stream and substantially decreasing EVA Margin volatility. Increased focus on core franchises, alternative monetization models, and pandemic-related tailwinds allowed Activision to reach an unprecedented Quality Score of 91 in the second quarter, which can only be achieved by truly exceptional companies.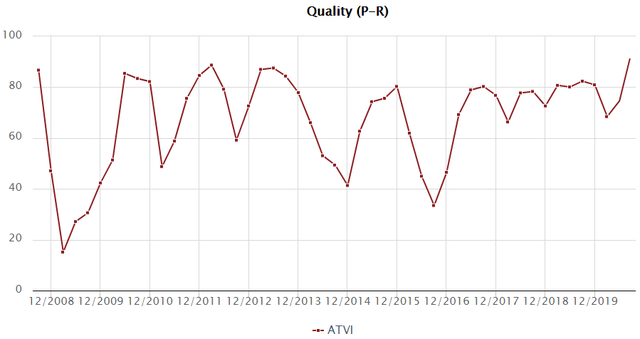 Source: evaexpress.com
As a final assessment, even if we discount the recent boost due to the shelter-at-home conditions, Activision is a highly profitable business with decent shareholder value creation consistency in the last 5 years, coupled with an improving trend in EVA fundamentals. The company passes our operational criteria with ease, and Activision's narrow-moat rating seems fully warranted both from a quantitative and a qualitative standpoint.
Capital Allocation
After looking at the operations dimension, we continue investigating the company through the capital allocation lens. Remember, the incremental return on invested capital (measured by EVA Momentum) is a crucial element when it comes to the assessment of successful capital allocation by management. If the company can earn a positive EVA by reinvesting all the cash generated by the underlying business, shareholders are better off if the firm retains most of its earnings. In the table below, we have dissected all the possible uses of cash for Activision for the past decade.

Source: Morningstar
As outlined earlier, Activision's operations require a fairly low level of reinvestment, with CapEx amounting to ~7% of OCF on average over the past decade. With Activision's EVA Momentum coming in at 1.9% from 2010 to 2019, the current level of reinvestment seems more than justified, since it translates to incremental shareholder value creation going forward. Share repurchases were halted in 2013, and since the acquisition of King for $5.9 billion in 2016, the company has been following a rather conservative capital allocation strategy, focusing on strengthening its business fundamentals and building up substantial cash reserves.
Our cash and investments at the end of June was approximately $6.5 billion, and we ended the quarter with a net cash position of approximately $3.8 billion. We have long viewed our strong balance sheet as a strategic asset, and we're pleased that the strength of our business fundamentals and conservative financial policy were recognized in our recent upgrade of our credit rating to A- at S&P."

Source: Dennis Durkin, CFO, Q2 2020 earnings call
Between 2010 and 2019, the company generated an aggregate of $14.34 billion in free cash flow, while buybacks and dividend payments amounted to $8.79 billion, or 61% of FCF, leaving plenty of cash for strategic investments and major acquisitions as opportunities arise.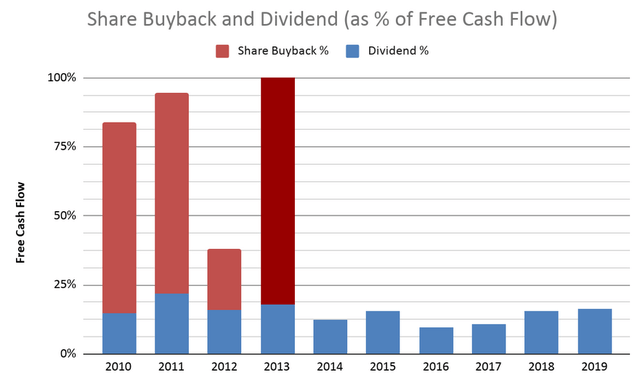 (Note: in 2015, share buybacks amounted to 476% of FCF)
Source: Author's illustration based on Morningstar data
Share Buybacks
Activision Blizzard was established in July 2008 through the merger of Activision and Vivendi. The company rewarded its shareholders with regular share repurchases until 2013 when a major deal was struck to gain independence from the majority shareholder, Vivendi. Activision has purchased 429 million shares – financed by $1.2 billion in cash and the issuance of $4.6 billion in debt – from Vivendi for $5.8 billion, while an investment group led by the current CEO Bobby Kotick and Chairman Brian Kelly acquired an almost 25% stake by purchasing 172 million shares for $2.34 billion. Looking at the chart below, it is apparent that the major repurchase in 2013 took place when the company was trading at a historically low, sub-zero Future Growth Reliance, creating substantial value not only for the investment group but for every single shareholder as well.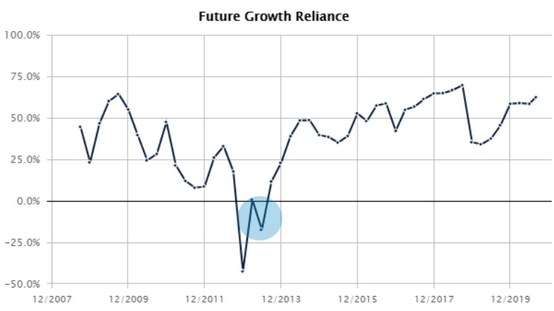 Source: evaexpress.com
Since gaining its independence, Activision's management has halted repurchases and the share count has been slowly but steadily increasing due to lavish share-based compensation programs awarded to senior management. CEO, Bobby Kotick received $30 million compensation – of which $19.1 million was received in stock options, $6.3 million was awarded as stock – during the disappointing year of 2019 which has angered some shareholders and led to heavy criticism.
Dividend
Activision Blizzard has been rewarding its shareholders with steadily growing dividends since 2010. The dividend yield has historically been less than 1%, far below most income-focused investors' expectations. Due to the meaningfully positive EVA Momentum, reinvesting in growth benefits shareholders considerably more than receiving higher dividend payouts. Nevertheless, considering the significant cash reserves and that the payout ratio is currently sitting at 17.5%, the safety of the dividend is unquestionable.
Acquisitions
In 2016, Activision Blizzard acquired King Digital Entertainment – the maker of one of the highest-grossing mobile games, Candy Crush Saga – for $5.9 billion, and with it, gained a major foothold in the rapidly growing mobile gaming market. While at that time, most analysts believed that the company has overpaid for the chance of acquiring a franchise that is already past its peak, Activision has made much effort to justify one of the biggest acquisitions in the history of gaming. Due to the increased available resources, King managed to expand the Candy Crush universe with quite well-received new titles like Candy Crush Soda, Jelly, and Friends Saga. As in-app purchases were showing a steady downward trend, Activision decided to add third-party advertisements, which have proven to be a highly profitable decision.
In 2019, King's Candy Crush Saga was once again the top-grossing title in the U.S. app stores. Despite a substantial decline in net bookings from in-game purchases, King managed to close a fairly strong year due to the advertising business almost doubling year-over-year to over $150 million in net bookings. Shelter-at-home conditions boosted both player numbers and the level of engagement even further, leading to $553 million in revenue for Q2 that has been the highest since 2016. It is important to note that King managed to deliver strong growth in advertising as well, despite ongoing headwinds in the digital advertising sector.
While the purchase price of ~$6 billion seems a little steep for King Digital, we believe the acquisition could be turned into a true home-run for Activision, if the firm manages to successfully leverage King's experience to develop mobile versions of Activision's biggest franchises like Warcraft or Overwatch.
Valuation
Future Growth Reliance
Our prime historical valuation indicator in the EVA world is the Future Growth Reliance (FGR), which is the percent proportion of the firm's market value that is derived from, and depends on, growth in EVA. As outlined in our research article, it is the best-of-breed sentiment indicator that addresses accounting distortions, thus gives us a true picture of which wide-moat companies seem attractively valued in historical terms.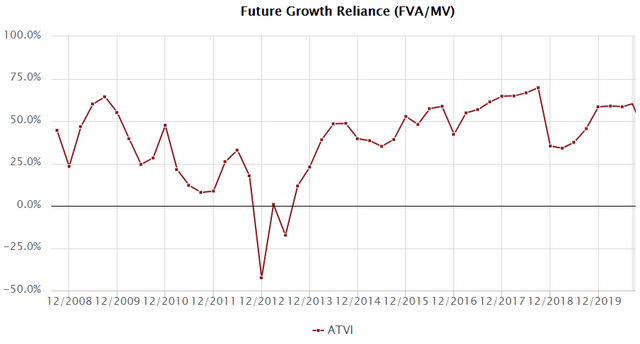 Source: evaexpress.com
Looking at the chart of Activision, today's share price implies an FGR that is close to the upper end of its historical valuation range. Numerically, it stands at 60% as of today, indicating unfavorable valuation compared to the 5-year average FGR value of 52%. Although it is reasonable for a major player in an industry that is predicted to grow by almost 10 percent annually to trade at well above 0 FGR levels (implying zero growth in EVA in the future), the current valuation certainly seems high in historical terms.
Morningstar DCF
As a second step, we use Morningstar's valuation system, where analysts create industry and company-specific assumptions, and then all the inputs are used in a discounted cash flow model. In order to reflect all moving parts within the business, the analyst firm also evaluates the level of uncertainty with all the stocks they cover. Morningstar assigns Activision a high uncertainty rating with a $66 fair value. The thresholds between the different star ratings are illustrated below: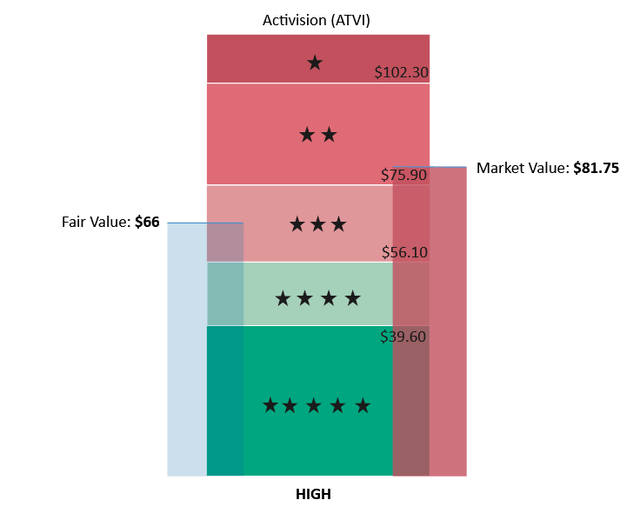 Source: Author's illustration based on Morningstar data
With the stock currently trading at $81.75 as of September 15, a 2-star rating is warranted, implying that its shares are moderately overvalued based on Morningstar's estimate, which is in line with our previous analysis based on the FGR sentiment indicator. Activision seems to offer no margin of safety at current levels, and conservative value investors should certainly wait for a more favorable entry price.
Summary of the investment thesis
PRVit score – heat map vs. market
After all our due diligence, we turn to the PRVit model for a final judgment of the overall attractiveness of a stock. The PRVit is a multifactor quantitative stock selection model based on EVA-centric measures of Performance, Risk, and Valuation. Combining a company's Quality Score with its actual Valuation Score can be visualized on a heat map like the one below, where the gradient diagonal line signals fair value. We want to see a stock in the upper-right hand corner of this heat map, but we are more concerned with the Quality Score, as we believe that over the long-run, we are better off with a truly exceptional business bought at a fair price, rather than a fair company bought at an exceptionally attractive price.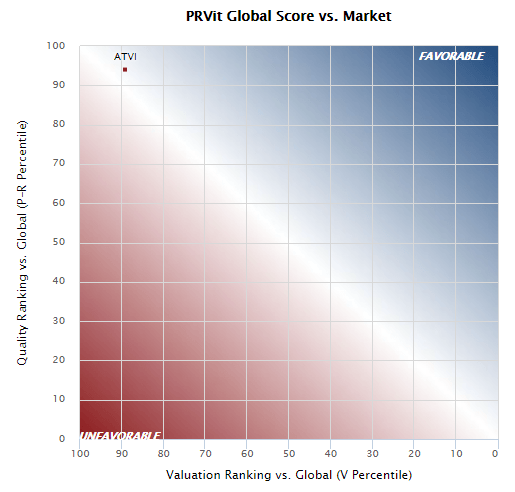 Source: evaexpress.com
Looking at the heat map above, we can clearly see that although from a valuation standpoint, this stock is far from being a bargain, investors are compensated by the impeccable quality of the company (although the picture is somewhat nuanced by the volatility of the Quality Score, which did not always reside in "top-quality territory"). Based on the PRVit model, Activision can be labeled as "expensive but worth it", providing a fair trade-off between quality and price. That said, we prefer buying when baked-in expectations are low in historical comparison, as the lower the bar, the easier it is to surprise on the upside. As a result, we are staying on the sidelines for now. Our enterprising analysts might start building a position below the 5-year average FGR level of 52%, translating to an entry price target of $65 (which is slightly below Morningstar's $66 fair value estimate), while our most conservative analyst would wait for an even more enticing, sub-25% FGR level at roughly $42.
One more thing
If you liked this analysis and don't want to miss any of the upcoming articles by our evidence-based stock selection process exclusive for SA readers, please scroll up and click "Follow" to be notified of future releases.
Disclosure: I/we have no positions in any stocks mentioned, and no plans to initiate any positions within the next 72 hours. I wrote this article myself, and it expresses my own opinions. I am not receiving compensation for it (other than from Seeking Alpha). I have no business relationship with any company whose stock is mentioned in this article.